Documents you will need to buy and secure land in Nigeria without Omo-Onile, or any land dispute palaver made easy.
Thanks a lot, guys for your comments, if there is any topic that you want to be posted just let us know.
For those who don't know Eazybuilders.com is your one-stop online/offline shop for all your building needs from start to finish. Check out our website for your construction needs! www.eazybuilders.com/shop/ and for information on building quotes and estimates contact us @ info@eazybuilders.com or call +2347012220947 or +2348067472007.
It is common knowledge that all organisms or creatures fight tooth and nail over space, food, and mate, hence, humans are not left out, even countries still fight over territories. My point is when comes to the purchase of the landed property it should be taken very seriously. I find it pitiable yet ludicrous, and laughable when Nigerians both at home and in the diaspora lament over been duped or robbed of their landed property.
I will recommend you read the previous articles @ www.eazybuilders.com/blog/ so you can get some foundational knowledge of land acquisition in Nigeria, you can always do that after reading through this one.
I will be delving into the documents required for land acquisition in Nigeria, following all advice given to you on this blog will go a long way to make your purchased property permanently yours and your children's inheritance.
If you think this article is for you, then go ahead and enjoy your read!
Alright guys, Let's dig into it!
Documents needed for land acquisition in Nigeria… Part 1
Deed of assignment:
This is popularly called agreement; it is first on the list because it usually comes next after obtaining a receipt for purchased land. It is a transactional document drawn by a real estate attorney between the owner of the landed property and the new owner. This document usually describes the property been sold and the date the transfer was made.
After obtaining this document it is pertinent for you to get it registered at the appropriate land registry, this is to ensure that there is an official document that can be verified by the general public that the property has been transferred to you.
In the event you want to obtain a governor's consent or registered conveyance for the property, this document must be notarized.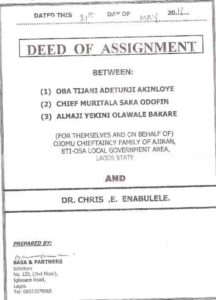 Survey plan:
This is a document that measures the boundary of a piece of land, it marks both the identity of the land and the boundaries. This document is necessary, aside from it gives the exact measurement and description of the land, it ensures you don't buy a committed land or that which has a right of way. A certified surveyor will be able to sort that out for you.
A typical survey plan usually contains the following:
Name of the owner of the land that's been surveyed.
The address of the surveyed land.
The measurement of the surveyed land.
The drawn-out portion of the piece of land that's been surveyed.
Beacon numbers.
The name of the surveyor and the date the document was signed.
Stamp showing the land is either free from Government acquisition or not.
It should be noted that a survey plan that has all the above attributes and that has been submitted to the record office is called A red copy survey (or record copy). Hence, a red copy or record copy survey is a legal document needed to perfect your land title
How to verify submitted record or red copy survey plan
Ask for evidence of submission or approach the records office at the surveyor general office and do a verification of the record copy plan.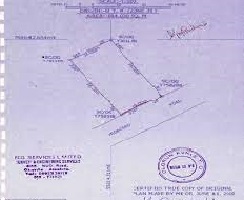 Watch out for Part 2 in our next post!
Do have a blissful week ahead.